Understanding DHT Hair Loss
Noticing a difference in the quality, thickness, and length of your hair after 50 is more common than you think. It is natural to experience changes in your hair because of menopause - hormones and play a huge part in hair health.

Although it is expected to experience changes in hair with age, there is a lot that can be done to counter the effects age, health, and menopause may cause. Be aware, be informed, and most importantly: be proactive!

HOW MENOPAUSE AFFECTS HAIR HEALTH
As if hot flashes weren't enough to suffer during Menopause, hair loss, stagnant growth, and thinning hair can also be a part of the natural process. You may be wondering what exactly about menopause triggers this: it is called dihydrotestosterone, also known as the DHT hormone.

The DHT hormone is produced as a byproduct of testosterone and is responsible for the discoloration of natural hair. Yes, this is the hormone that promotes graying hair, but it is also the hormone that promotes hair thinning and hair loss. DHT causes hair follicles to reduce in size, disrupting hair growth and resulting in the thinning of hair.

If the DHT hormone effects are prolonged then Androgen Alopecia becomes apparent. Androgen Alopecia is also known as female-pattern hair loss (FPHL). This is the result of prolonged DHT hormone exposure, causing permanent hair loss.

Rest assured - there are ways to combat the natural hair aging process. There are two ways of approaching hair health: from the outside in and from inside-out.

HEALTHY HAIR STARTS FROM WITHIN
Adding a vitamin supplement is the ideal way to ensure the body will have all the required vitamins and minerals to promote hair growth - such as biotin, magnesium, and vitamin B. Although many of these vitamins and minerals are present in our diet, they may not be in an adequate amount or frequency. So much so, studies suggest that 75% of Americans do not meet the recommended daily intake of magnesium, an essential mineral to hair health.


Kerotin Hair Growth Formula is a solution that contains essential vitamins and minerals, as well as natural extracts that block the DHT hormone. It is 100% drug-free and made in the US.
In addition to basic vitamins and minerals, select a vitamin supplement that can also help you combat the negative effects of the DHT hormone. Saw Palmetto and Nettle Root are natural ingredients that block the DHT hormone - minimizing hair thinning and hair loss. Needless to say, these are essential ingredients to promote hair growth and prevent hair loss over 50.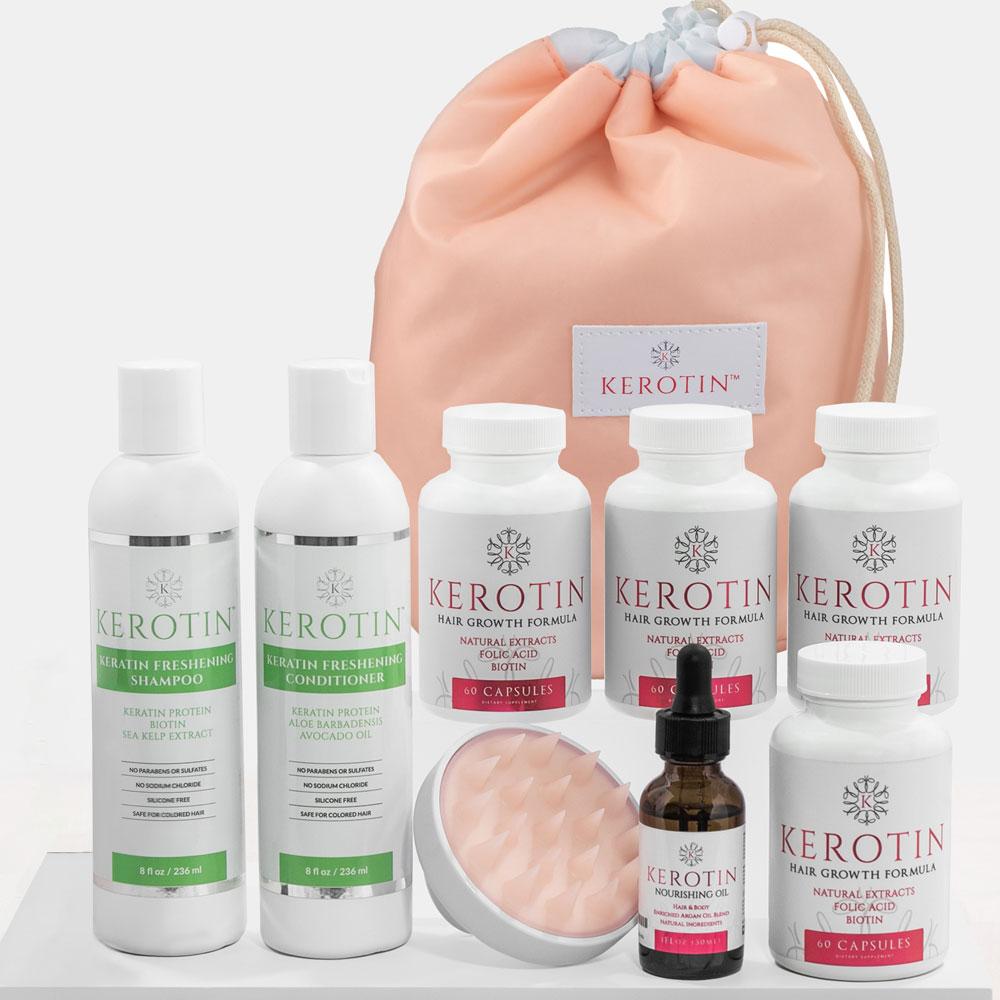 A Kerotin bag equipped with everything you need to build the foundation and stability to strut your luscious locks. Promote scalp and follicle health while growing stronger, longer hair! Be the best version of yourself with The Essentials by your side. 
How to Use: Take 2 capsules of Hair Growth Vitamin daily. Before washing hair, apply Nourishing Oil all over scalp and hair and massage using the Scalp Massager for at least 4 minutes to promote hair growth. Leave on hair for 30 min up to overnight. Proceed to wash hair with Freshening Shampoo & Conditioner.


All Natural
Made in America
Cruelty-Free