Kerotin Hair Care Results & Reviews
Testimonials From Women Like You!
I Am Amazed With the Results ~
I take one pill every night and use the oil on my hair after I shower. I am amazed with the results. I have fine hair that isn't exactly thinning but it never felt very full. I bleach my hair and struggle with damage. Within days of starting this I noticed hair growing around my forehead, new growth!! My hair seems more full. I feel like it's possibly even growing more now. I am so happy that I found this. Trust the reviews.
Margeaux - Verified Purchaser
I Constantly Get Compliments ~
The vitamins work. My hair has less breakage, is shiny, bouncy, has extra volume, is easier to comb through, and feels strong. I receive compliments daily on how great my hair looks and how long it has grown in only a short period of time. I also love these because they come in vegetarian capsule form.
Shannon - Verified Purchaser
Real People. Real Results.
Shop Our Best Selling Products
Combo - 1 Month Supply of Kerotin Hair Growth Capsules & Kerotin Enriching Argan Oil
Combo - Keratin Renewal Shampoo & Conditioner - 8oz Bottles + FREE Shipping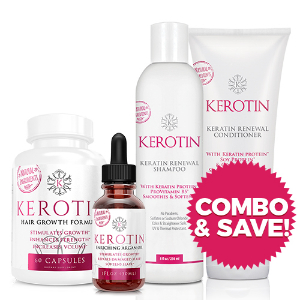 Combo - The Ultimate Hair Care System - Vitamins, Oil, Shampoo & Conditioner + FREE Shipping