Women with damaged hair. This can be a result of heat styling, color treatments, chemical treatments, sun exposure, pollutants or humidity.
Signs of damaged hair include:
Excessive tangling

Lack of elasticity

Split ends and frizz

Breakage

Thin ends

Dryness
Our formula is charged with two types of fast-absorbing proteins: Hydrolyzed Collagen and Hydrolyzed Keratin. 
Both are essential to increasing hair elasticity and reconstructing broken bonds. It also contains a blend of antioxidants which prevent damage from external factors.
Replenishes collagen topically

Repairs damaged hair

Rebuilds strand's internal structure

Boosts hair elasticity, preventing breakage

Eliminates split ends and frizz

Rejuvenates
Kerotin Collagen Line
The main damage repair actives are:
Hydrolized Collagen
Creates a protective layer around the hair cuticle, neutralizing free radicals and providing hair-building amino acids which reconstruct the hair fiber and increase hair porosity
Hydrolyzed Keratin
Penetrates the hair shaft and supplements it with broken-dow protein. This minimizes the damaging effects of heat styling, UV exposure, environmental pollutants and chemical treatments
The Result: Repaired, reconstructed and revitalized hair with minimal breakage and frizz
A
clinical study

on Collagen
 found an:
 Increase in hair elasticity after 
2
Applications 
A
Clinical Study

on Collagen Found an:
 Increase in hair strength after 
Shampoo: Water, Sodium Lauryl Glucose Carboxylate & Lauryl glucoside, Sodium Cocoyl Isethionate, Cocoamidopropyl Betaine, PEG-120 Methyl Glucose Dioleate, Methyl Gluceth-10, Coco-Glucoside & Glyceryl Oleate, PEG-40 Hydrogenated, Castor Oil, Coconut Oil, Glycol Distearate & Laureth-4 &Cocamidopropyl Betaine, Hydrolyzed Keratin Protein, Hydrolyzed Collagen, Phenoxyethanol, Aloe Barbadensis, Panthenol, Fragrance.
Conditioner: Water, Cetrimonium Chloride, Cetearyl Alcohol, Behentrimonium Methosulfate, Isopropyl Palmitate, Lanolin Oil, Cetyl Alcohol, Quaternium 31, Hydrolyzed Keratin Protein, Hydrolyzed Collagen, Rosemary Leaf Extract, Rosehip Seed Oil, Phenoxyethanol, Ethylhexylglycerin, Witch Hazel Leaf Extract, Chamomilla Recutita Flower Extract, Mallow Extract, Peppermint Leaf Extract, Primula Veris Extract, Alchemilla Vulgaris Extract, Veronica Officinalis Extract, MelissaOfficinalis Leaf Extract, Achillea Millefolium Extract, Citric Acid, Calendula Flower Extract, Sage Leaf Extract.
Mask: Water, Cetearyl Alcohol, Behentrimonium Methosulfate, Cetyl Alcohol, Ceteareth-20, Phenoxyethanol, Ethylhexylglycerin, Hydrolyzed Keratin Protein, Butylene Glycol, Polyquaternium-7, Isopropyl Palmitate, Lanolin Oil, Hydrolyzed Collagen, Citric Acid, Meadowfoam Seed Oil, Rosemary Leaf Extract, Vitamin E, Disodium EDTA, Burdock Root Extract, Aloe Barbadensis Leaf Extract, Fragrance.
Lather a coin-size amount onto wet hair and massage thoroughly. Let it sit for 30 seconds to 1 minute for the scalp and hair follicles to properly absorb the nutrients. Rinse with lukewarm water and repeat if needed.
After shampooing, apply the Collagen Conditioner. Lather a coin-size amount through wet hair starting from the hair tips and upwards (avoid roots if you have an oily scalp). Leave the conditioner for 1 to 2 minutes. Rinse your hair thoroughly and enjoy your clean hair.
For deep conditioning, use the Collagen Mask once a week instead of the conditioner, or if you have very dry and coarse hair, use the mask and the follow with the conditioner after rinsing.
Why is Collagen Important?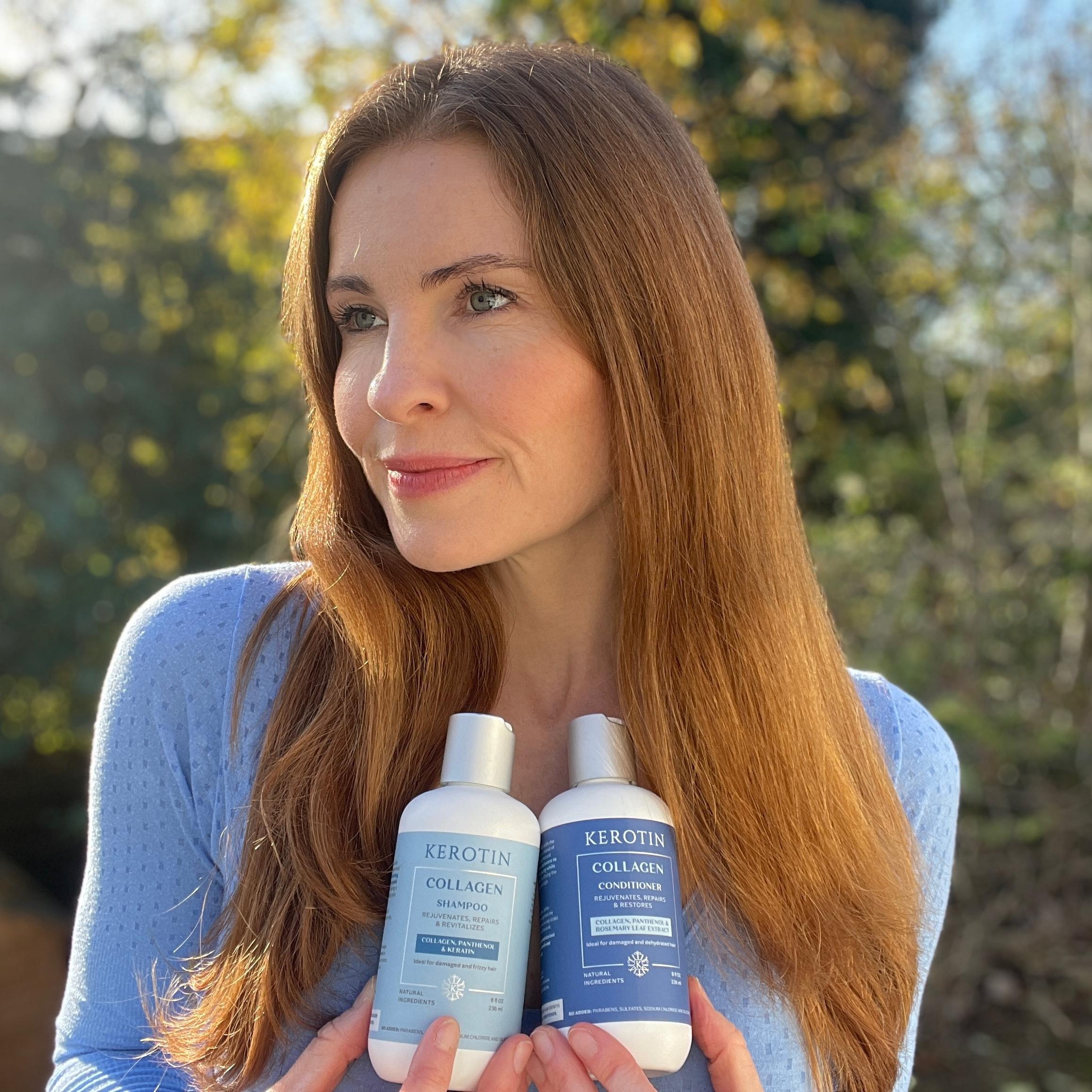 Collagen levels start decreasing in our mid-twenties by 1.5% yearly and up to 30% in the first five years of menopause.
Collagen is a structural protein that helps maintain hair elasticity and structure. A lack of it can lead to breakage and loss in the vibrancy of skin and hair, causing poor follicle function and anchorage from the scalp.