Customer Reviews
Write a Review
Ask a Question
Filter Reviews:
hair
Brush
Kerotin
breakage
tangles
scalp
shower
hair vitamins
ends
problems
07/27/2021
patricia b.

United States
08/07/2020
Grange F.

United States
Detangling Brush That Doesn't Tangle
I know the title seems a bit..odd...but I have had many many detangling brushes that don't detangle and actually cause more tangles. This one does just what it says. My hair is very long (to my rear), think and sort of curly..individual hairs curl due to the silver coming in. :) Anyway, I wait until my hair is completely dry, run my 'fat comb' through it and then use my Kerotin detangling brush after that. Only 1 time a day...that's it! This is starting to sound like a commercial, but I can't help it. Kerotin does it again...multiple products that I can and will continue to use without changing it out. Thank you Kerotin!
Hi Grange! Thank you for your review. We truly appreciate it.
07/20/2020
Dannie G.

United Kingdom
Exceeded Expectations
I already loved the Kerotin hair vitamins. I have been taking them for years, they really speed up growth and I always end up running out for a few weeks before my next batch comes, and during that time the difference in my hair is extreme, it starts shedding so much more, goes limp and thin. So I have my vitamins, but during lockdown my hair took a nose-dive. I don't understand why, I considered perhaps the water in the area I'm staying, but from mid-length to ends it is dry, broken, split, frazzled, really damaged. I got hair scissors and kept cutting the ends off, but to no avail. The new ends split straight away and the damage and breakage is all the way up the hair. I invested in a high-end shampoo, (I have tried the Kerotin shampoo and conditioner before but unfortunately they didn't agree much with my hair) and decided my brush also had to go. It isn't kind to my wet hair and felt like it was breaking it and really tugging it when wet. This Kerotin brush is a dream. Just the right size, and detangles hair when wet like a knife in butter. It glides through. It helps distribute heat-protection serum and it just feels therapeutic. The teeth are not too hard, not too soft. You kind of want to keep brushing as it feels so good and glides so easily through the hair. It is also my go-to brush for dry hair now. It feels equally good on dry hair. If your hair gets tangled in the wind or the heat, this is the tool you want with you. It's just the right size to carry in your handbag. You couldn't use this brush to blow-dry, as I expect the teeth would melt, I have bought a de-tangling blow-dry brush for that. I have combined my new high-end shampoo and Kerotin brush with the Kerotin oil and another essential oil blend and black castor oil. I put the oils on over night before washing my hair. After washing my hair I put on a few drops of Kerotin oil to the lengths and ends whilst my hair is wet before blow drying as well as my usual heat protectant serum.This routine combined with the new brush, have vastly improved my hair that I thought was beyond salvation in less than 3 weeks. I would say the condition has improved by 2 or 3 times. I have just washed the oils out with my new shampoo for the third time so far, used the kerotin brush to detangle and blow dried with some kerotin oil and heat serum and my hair has dried so soft and almost smooth enough not to straighten it. There is obviously still damage but the softness, and improvement in condition is remarkable. With this routine I can grow out the damage and avoid cutting off all my hair. I have also bought the Kerotin massager which I use to massage the oils into my scalp before putting them on the lengths as a treatment. It is fantastic. In fact its so nice, my boyfriend has stolen it and uses it in the shower.
01/01/2020
Julie M.

United States
This brush is fabulous
This really works so well on my wet hair. Never have I been so pleased to brush my hair while wet.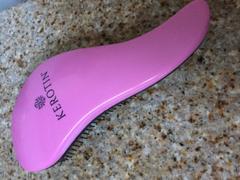 I just wanted to take a second to thank you for your positive feedback, and we appreciate it very much. We are so grateful that you have chosen to buy from us, and hope that everything about your shopping experience was perfect.
12/02/2023
Fakhita N.

United States
Detangler brush
I liked the brush. It makes my hair be more softer and it makes my hair stay in place.