Product Description:
Whether your hair is curly, straight, short, or long, a mass of tangles is an unpleasant problem to deal with and can cause pain, hair loss, and breakage. Fortunately, using this gentle Kerotin detangling brush, you can ban tangled hair once and for all. It detangles with minimum fuss, breakage, and damage, leaving hair smooth, soft and shiny.

No Knots and No Tangles: specially designed detangler glides through your hair, smoothly untangling stubborn knots.
Suitable For All Hair Types: wet or dry, fine or thick, curly or straight without tearing or breaking.
Stimulate Growth: cone-shaped comb teeth designed to massage your scalp and follicles promotes new hair growth and rejuvenates your scalp.
Multi-length Bristles: bristles are designed to vary in length, so it pulls tangled strands sideways, gently separating them
Ergonomic Handle: the ergonomic handle is lightweight and comfortable to hold.
Customer Reviews
01/01/2020
Julie M.
United States
This brush is fabulous
This really works so well on my wet hair. Never have I been so pleased to brush my hair while wet.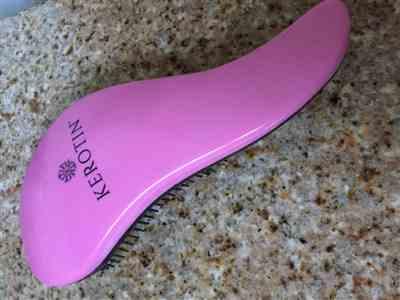 I just wanted to take a second to thank you for your positive feedback, and we appreciate it very much. We are so grateful that you have chosen to buy from us, and hope that everything about your shopping experience was perfect.
10/14/2019
Nicole L.
CA
10/11/2019
Noelani H.
AU
Fantastic! I won't give up,
Fantastic! I won't give up, 74 years old and in for the long haul!
08/07/2019
Lisa M.
US
love the size, gentle enough
Love the size, its small but does the job. Detangles as no other.