Understanding The Hair Growth Cycle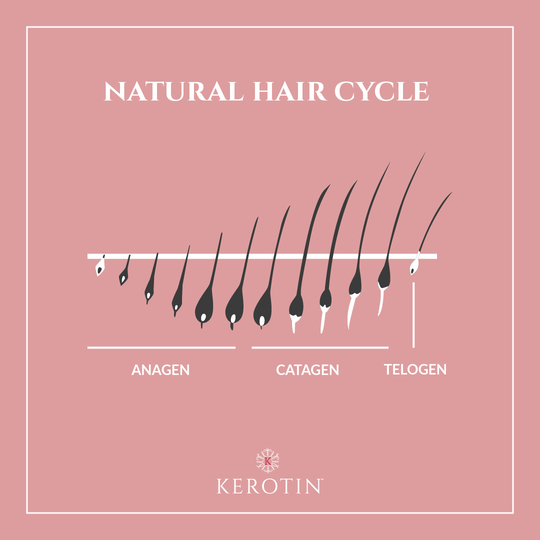 It is important to understand the hair cycle for those of you trying to reach your hair potential. Your natural hair cycle takes three to four months to complete. However, it is important to remember that not every hair follicle is on the same cycle time. With that said, you need to patiently wait for at least three months to see your full hair potential. It is important to note that your hair will only grow during the anagen phase, so you need to wait for each hair follicle to receive proper nutrition, stimulation and begin the anagen growth cycle again.

Anagen: active growth phase that lasts two to seven days.

Catagen: a transitional phase that lasts about two weeks. Hair will stop growing in this phase and the follicle will shrink.

Telogen: a resting phase that lasts up to three months until the hair falls out and the new hair begins the anagen phase.

HAIR GROWTH REQUIRES NUTRITION
Nutrition is vital when it comes to hair health. Hair must obtain the proper nutrition to grow from inside out and outside in. Obtain nutrition from the inside out with a hair growth supplement.  They typically contain essential vitamins and minerals that boost hair health. The trick is to consume the supplement daily to build healthy hair from the root. You can choose the Hair Growth Vitamins for advanced support or the Hair Growth Gummies for basic care.

IMPROVE HAIR GROWTH CYCLE
Watch your cycle, it may sound funny to say watch your cycle, but it is true. Do you monitor your hair cycle? Do you know how your hair cycle works? It is simple to monitor your hair cycle by photographing and measuring your hair weekly and at the same angle. A fun way to see what is making the best difference is changing one step of your hair routine at a time and photographing weekly.



Hair Health Transition Guide
First Two Weeks: Change shampoo and conditioner to nourishing and sulfate-free formula
Second Two Weeks: Swap out your hairbrush and read your product labels to eliminate harsh chemical and damage
Third Two Weeks: Up your hair health with nutrition, consume a daily hair growth supplement, and use a nourishing hair growth serum
Photographing in between will definitely allow you to witness the journey your eyelashes will undergo when reaching their full potential.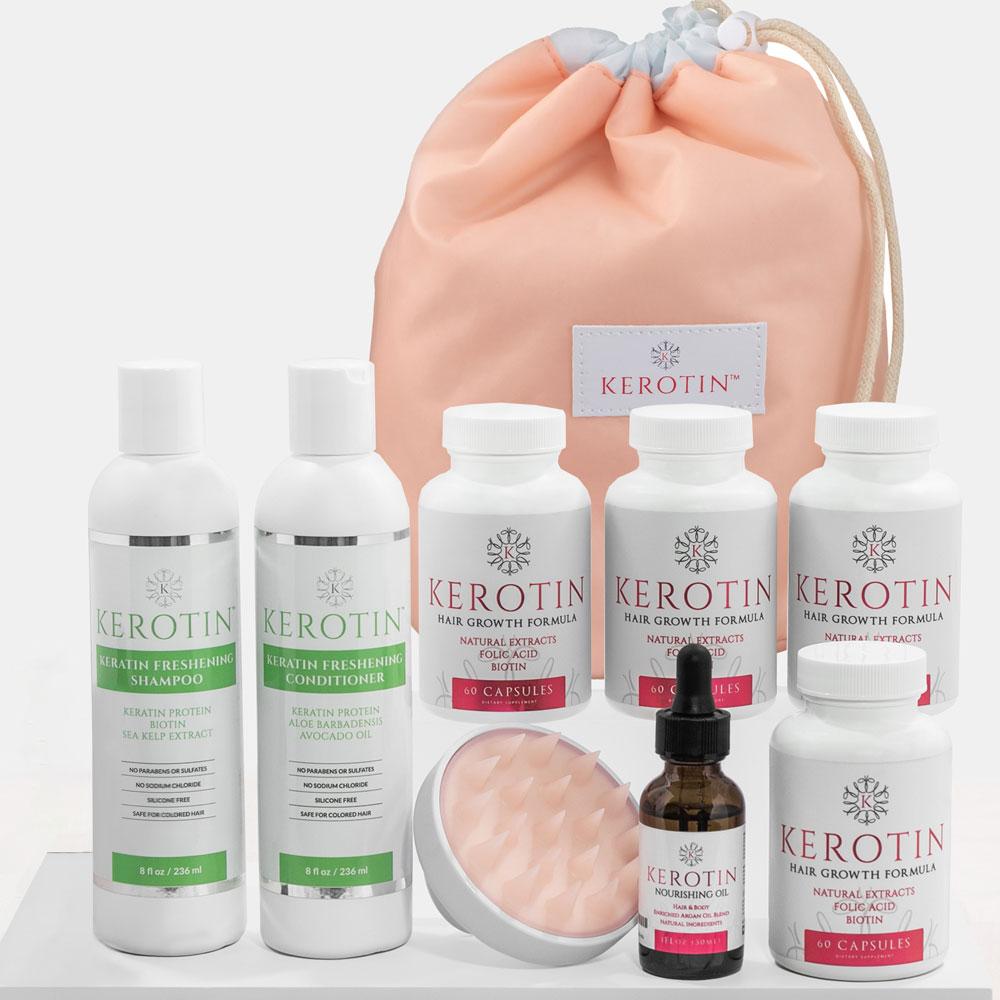 A Kerotin bag equipped with everything you need to build the foundation and stability to strut your luscious locks. Promote scalp and follicle health while growing stronger, longer hair! Be the best version of yourself with The Essentials by your side. 
How to Use: Take 2 capsules of Hair Growth Vitamin daily. Before washing hair, apply Nourishing Oil all over scalp and hair and massage using the Scalp Massager for at least 4 minutes to promote hair growth. Leave on hair for 30 min up to overnight. Proceed to wash hair with Freshening Shampoo & Conditioner.


All Natural
Made in America
Cruelty-Free