The Science Behind Kerotin Intensive Growth Drops

Promoting hair growth and managing hair loss is dependent on several factors: hair health, scalp health, and hair cycle health. Kerotin's Intensive Hair Growth Drops targets hair loss and promotes hair growth through a triple action system: 

Revitalize hair follicles
Lengthen active growth phase
Boost hair thickness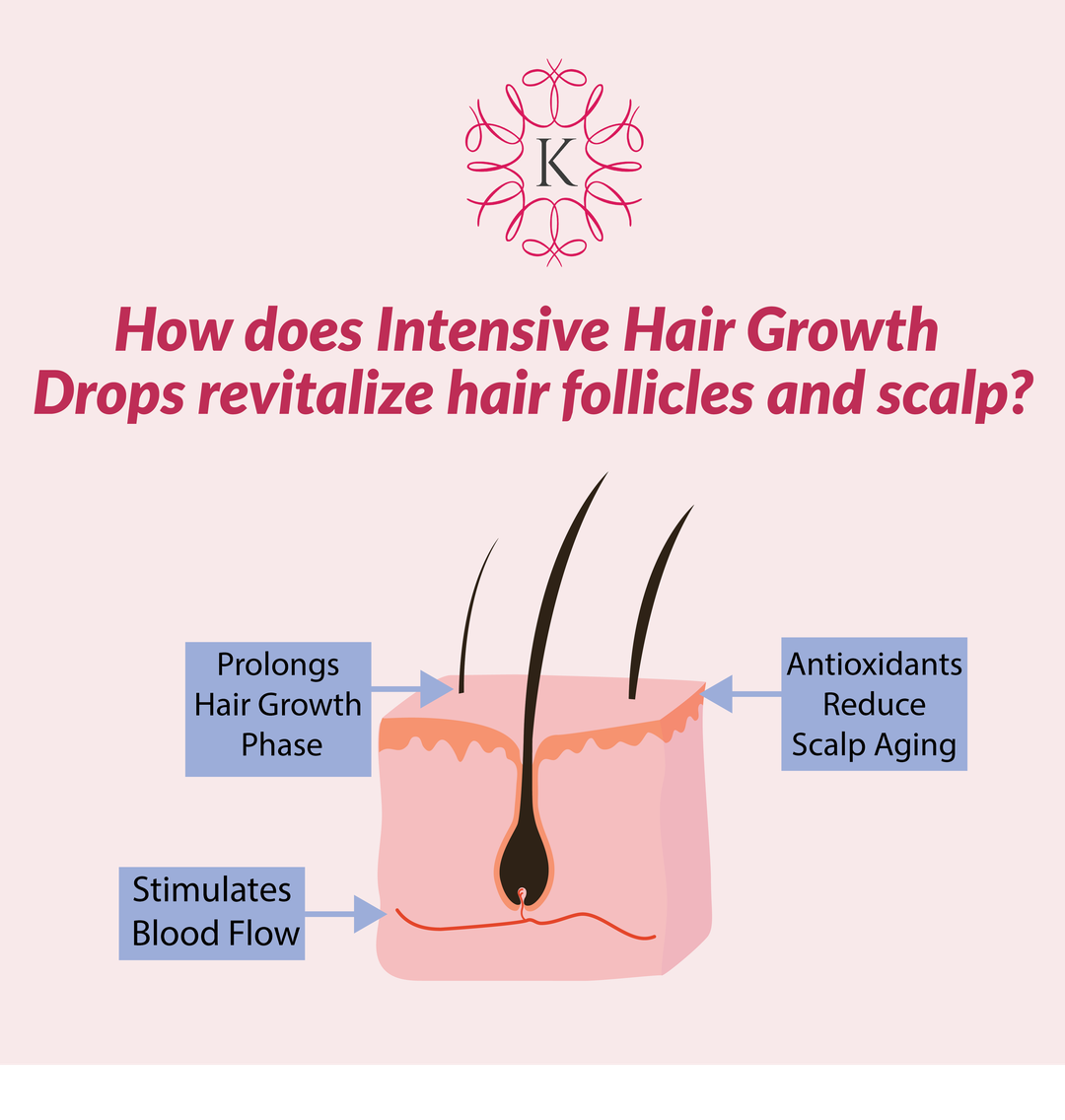 Revitalize Hair Follicles
Hair follicles require proper nourishment to grow healthy - proper blood flow in the scalp ensures nutrition reaches the hair follicle to boost growth. Blood carries nutrients and oxygen to the hair follicle, essential to nourish your hair roots and support hair growth. There are several natural ingredients that have been proven to stimulate blood flow to the scalp, such as Gotu Kola (Centella Asiatica) Extract and Rosemary Oil - both of which are present in Kerotin's Intensive Hair Growth Drops. Gotu Kola is a leafy plant widely used in Asian medicine as an anti-inflammatory agent as well as to stimulate blood circulation. Rosemary Oil, in addition to its anti-inflammatory and antioxidant effects, widens blood vessels.

At the end of the growth phase, scalp cells stop proliferation. The onset of a new growth phase, or anagen phase, is defined by the release of growth factors from dermal papilla cells. Pea Sprout Extract, an ingredient within Kerotin Intensive Growth Drops, increases the levels of growth factors required to reactivate hair growth and extend the anagen phase, rejuvenating the hair follicle, and managing hair loss. Similarly, Apple Stem Cell, also an ingredient within Kerotin Intensive Growth Drops, promotes the vitality and longevity of scalp cells, protecting them from damage due to environmental stress and thus delaying the hair follicle aging processes.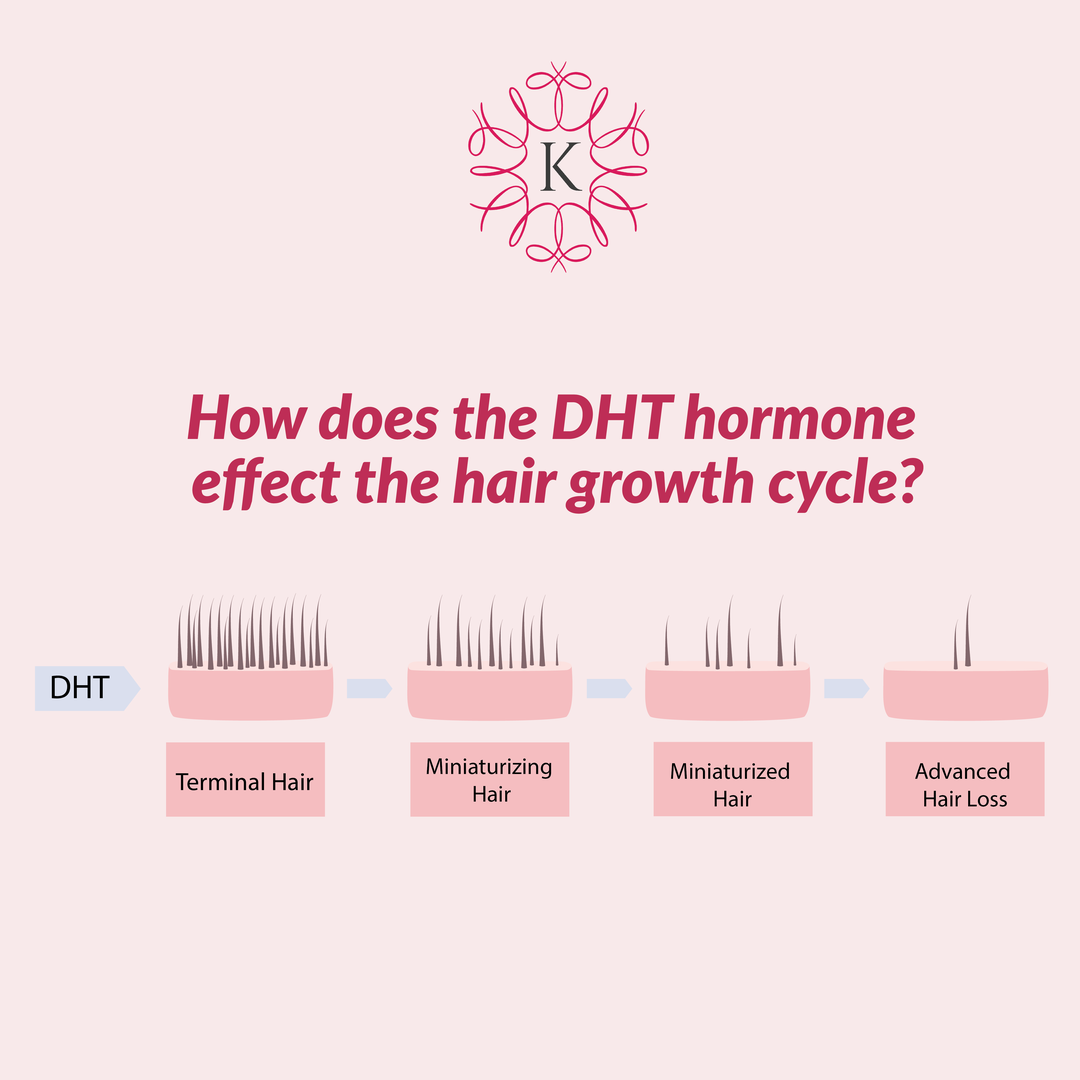 Lengthen Active Growth Phase
Hair loss and hair thinning are directly correlated with an increase in DHT (dihydrotestosterone) levels. When exposed to DHT, the anagen (growth) phase of the hair follicle is shortened. The follicle spends more time on the telogen phase, characterized by follicle miniaturization and reduced hair roots. As a result, the newly formed follicle is weaker, thinner, and grows shorter. Over time, these follicles can stop growing altogether, resulting in hair loss. There are several ingredients known to block the DHT hormone; such ingredients include, but are not limited to: green tea extract, safflower oil, Red Clover Extract (Trifolium pratense), Acetyl Tetrapeptide-3. Kerotin's Intensive Hair Growth Drops include all such ingredients in a powerful combination to block the DHT hormone and extend the growth phase of the hair cycle.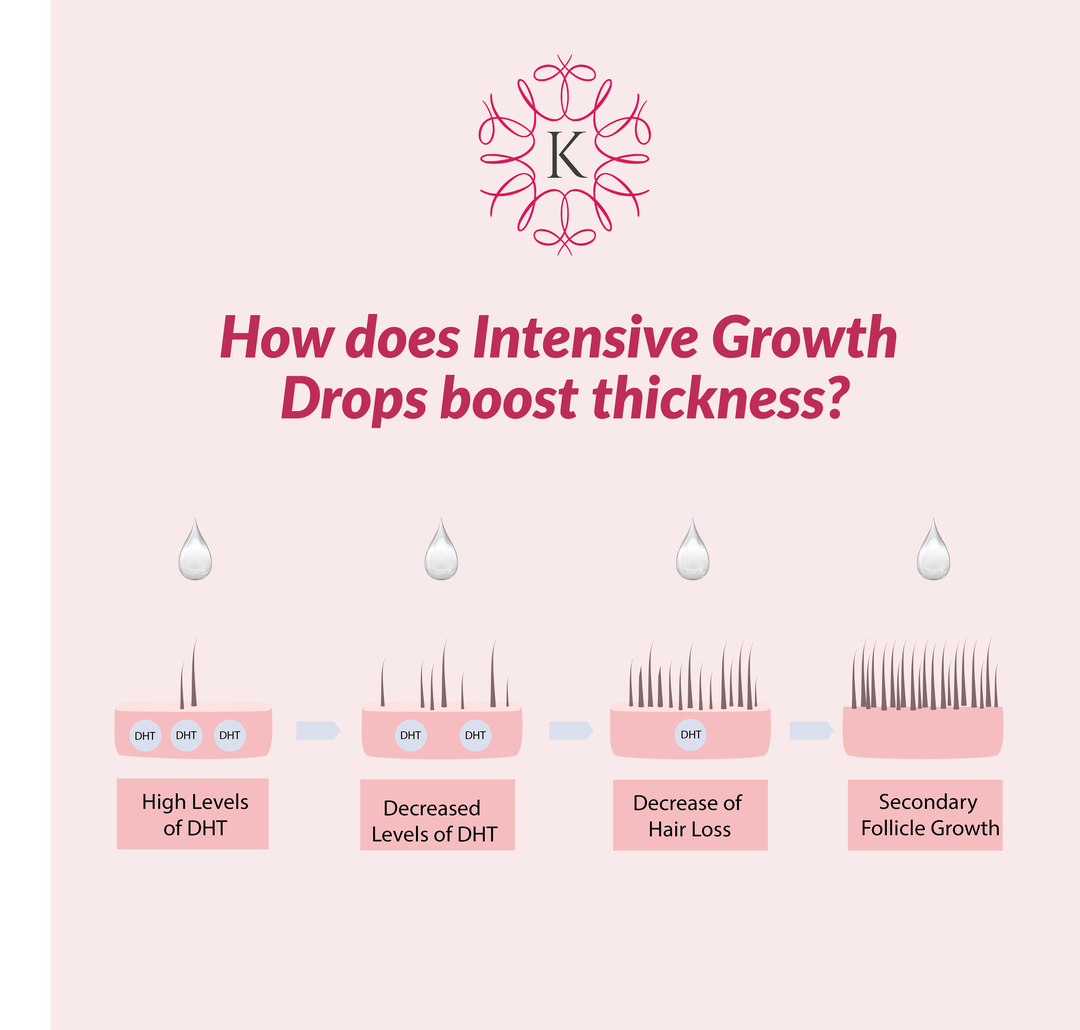 Boost Hair Thickness
Scalp hair follicles live within "Follicular Units," consisting of a central, primary follicle smaller secondary follicles. As women go through periods of increased DHT levels (due to stress, menopause, etc.), the number of secondary follicles can drop. As a result, each "Follicular Unit" suffers a reduction in hair density and a perceived sense of loss of volume. Given that one of the major triggers for this process to start is an increase in DHT levels, ingredients that block this hormone also boost hair thickness and prevent thinning by ensuring each "Follicular Unit" reaches its full potential of density - with all hair follicles thriving.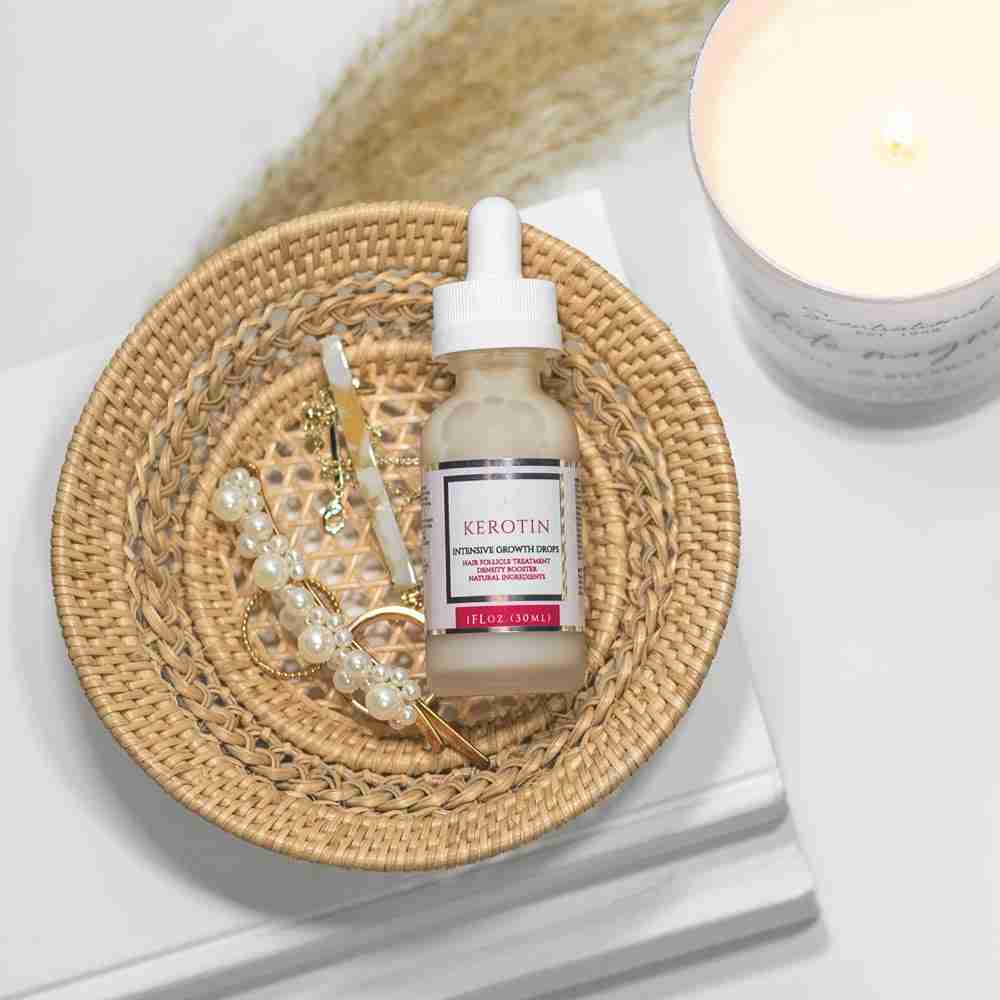 Intensive Growth Drops

How to apply:

1) Fill dropper and apply along scalp using one to two drops every two inches and repeat amongst the whole scalp
2) Delicately massage serum with the tips of your fingers or, for better results, Kerotin Scalp Massager
3) Apply daily for best results on clean scalp for effective absorption

When should it be applied?
Apply at night before bed on clean scalp and hair

What are the benefits?

Revitalize hair follicles, lengthen growth active phase, boost hair thickness
INTENSIVE HAIR GROWTH DROPS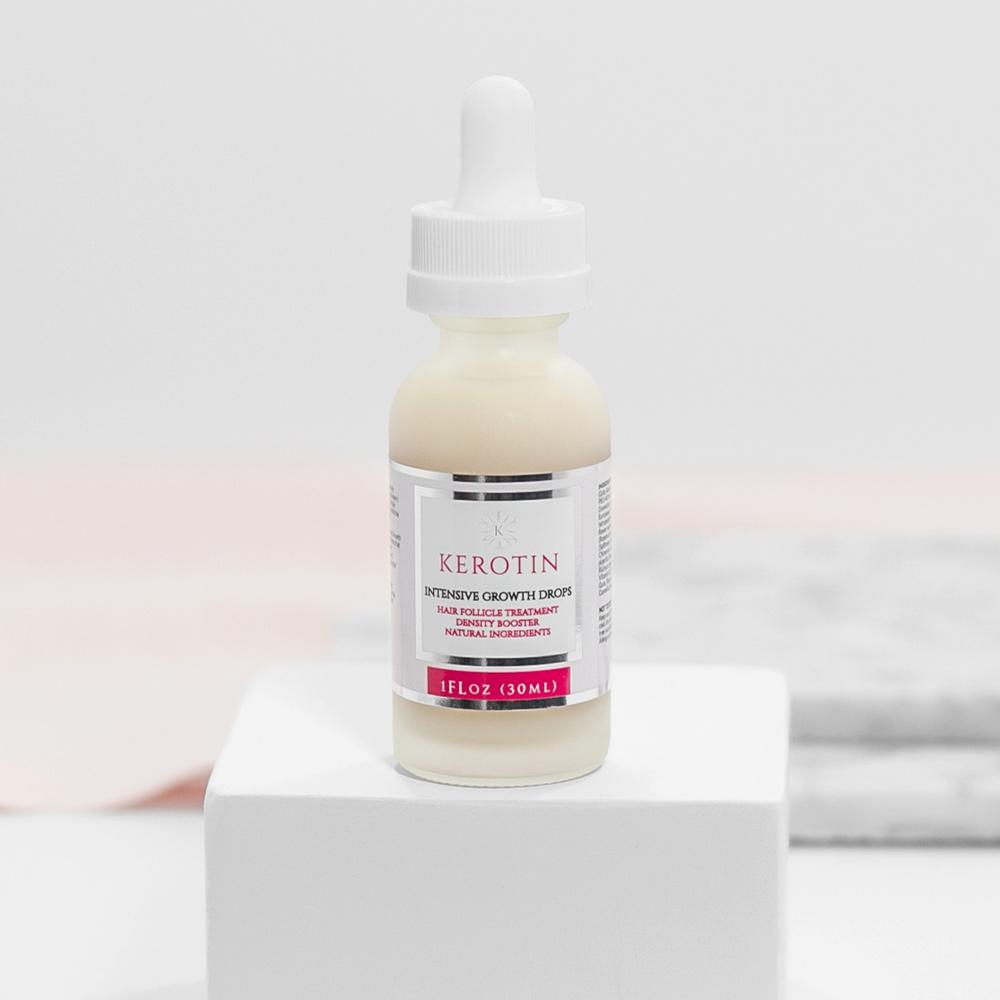 Intensive Hair Growth Drops

Increase hair density and block the DHT hormone (hormone-related to severe hair loss) while increasing blood flow to hair follicles to combat hair loss and thinning.
A lightweight, leave-in serum that nourishes hair follicles with essential nutrients to support the growth of healthier hair. Made with Apple Stem Cell Extract, it rejuvenates hair follicles and prolongs the hair life cycle.
Drug-Free – Free of Minoxidil
Non-greasy
Fast absorbing
Refreshing feel
Ultra-concentrated formula
No Sulfates, Parabens, Phthalates
No Sodium Chloride or Mineral Oils
Cruelty-Free