Eyelash Growth Serum - 3 Bottle Subscription
Subscription includes 3 bottles, 7mL each. Deliver every 6 months.
Dermatologist tested and approved.
Works on Eyelashes and Eyebrows.
Non-irritating.
Hypoallergenic.
Wow the Crowd - Each bottle contains 0.24 fl.oz (7mL), enough for one to two months of full treatment of eyelashes and eyebrows or two to three months of treatment of eyelashes only.
Wow The Crowd is designed for any woman looking to make an impression and focus on her eyelash health. Our serum is clinically proven, 100% natural, and dermatologist recommended so you can feel safe and beautiful while you celebrate your new growth! 

Clinically Proven Results
• Increases eyelash density by up to 80% in only 4 weeks
• Promotes fuller and longer eyelashes
Directions: Apply a thin layer to the skin at the base of the upper and lower eyelashes. Apply to clean, dry skin once per day. Do not rinse off.
FULL LIST OF INGREDIENTS
Biotin (Vitamin B7): helps thickening eyelashes and eyebrows and also increases eyelash length. Eyelashes and eyebrows, as all hair, are made of keratin, and Biotin improves the keratin infrastructure leaving the eyelashes and skin around the eyes in a healthier condition.
D Panthenol: essential for the body's metabolism, plays a role in the production of hormones and good cholesterol which are important for the development of healthy hair. is a very powerful ingredient used for rejuvenating skin, hair and nails, it is hydrating, moisturizing, and very protective.
Pumpkin Seed Extract: a proven anti-fungal and antibacterial agent, pumpkin seed extract helps maintaining clean healthy hair follicles, treating hair loss caused by clogged hair follicles or dead skin build up.
Vitamin B12: given vitamin B12's role in cell production, adequate levels of this vitamin are needed to promote healthy eyelash and eyebrow growth.
Hyaluronic Acid: by deeply rehydrating, hyaluronic acid restores the hair fiber's shine and health to promote healthy growth for eyelashes and eyebrows.
Vitamin A: will help your hair and skin health. This antioxidant vitamin helps normalize cell growth, maintain healthy skin, form collagen and increase your cell renewal rate.
Pomegranate Extract: the protein content and the acidity in the pomegranate fruit provides nutrition for the hair follicles and helps in strengthening eyelashes and eyebrows.
Cucumber Fruit Extract: contains multiple vitamins and minerals, including vitamin A, vitamin C, and Silica, which promote eyelash and eyebrow growth.
White Tea Extract: helps enhancing eyelash and eyebrow growth. Polyphenols, which are found in white tea, can suppress several cellular components that may damage the fiber network that helps the skin stay tight and firm and support healthy eyelash and eyebrow growth.
Customer Reviews
Write a Review
Ask a Question
Filter Reviews:
Kerotin
Brush
growth
lashes
Serum
length
eyes
beauty products
changes
eyelash serums
01/25/2020
Annelise
United States
01/02/2020
Sasha R.
United States
12/28/2019
Christine J.
United Kingdom
Really works!
As with every other online product I was hesitant to believe that this would work. But since the vitamins were extremely effective for me I figured this might work too. I was very pleased it did! I've started seeing a difference after just a week of use. Even my friends have noticed! My lashes are definitely thicker than before and a bit longer too! The serum is easy to apply and I didn't have any irritation at all. I highly recommend this. And I can't wait to see what they're going to look like in 3 weeks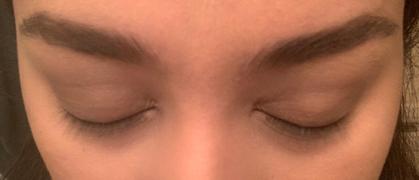 12/26/2019
Ana R.
United States
Surprisingly Effective
I have to admit I was a bit skeptical about this product. I wear contacts and didn't want to use anything that could potentially irritate my eyes. But it not only didn't cause ANY irritation but also worked really well. It feels very natural and doesn't itch at all. I forget that I have something on my eyelashes seconds after applying it. As someone who has high-standards about all these beauty products (I don't even wear makeup), I really liked this. Pictures are only 6 days apart - will continue to use it!
06/20/2020
Negra T.
United States
Great product.
I have been using this serum alittle over a month now and trust me it amazes me to how fast it works. I was very unsure about using it at first because am very sceptic about my eyes but looking at how great the rest of the Kerotin's products have been working for me. I had to give it a try and now am so happy I did. For the first two weeks I start to see that my lashes becoming darker and stronger and as it move in the third week, I saw growth. Am so excited to see how far it will go. Love this product.
There is nothing more rewarding than seeing a customer with positive feedback, and I can't express how grateful I am every time! Thanks so much for taking the time to write & share with us your experience!