Customer Reviews
Write a Review
Ask a Question
Filter Reviews:
hair
hairspray
hold
travel size
smell
mist
kind
things
luggage
airport
12/18/2019
Tonya W.

United States
Shape Shifter Hairspray
Favorite hairspray hands down. Excellent hold for all day curls. Once my hair is dry, I use a blow dryer and round brush with small sections of hair and spray with Sharp Shifter and let sit for about ten seconds before pulling the brush through. Product holds hair all day. Able to run hands through hair without feeling hairspray. Please consider a travel size for folks who travel and don't check luggage at the airport.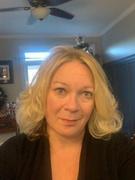 There is nothing more rewarding than seeing a customer with a positive feedback. Thank you so much for taking the time to share your experience with the product.
10/01/2021
Victoria R.

United States
Hairspray
love the way it feels & works. However, not a fan of the smell.. it reminds me of old Auqa Net... Please improve the smell of this, i love all of the other products i have used.
Hi Victoria Thanks so much for your feedback and I'm really sorry for the inconvenience. Your suggestion is very important to us, and we appreciate it very much.
05/23/2021
Danielle

United States
Excellent hairspray!
For reference, I have thin high porosity loose curls. I've been wearing my hair curly for over twenty years and I've been an avid hairspray user in that period of time. This hairspray is great! It sprays out in an evenly dispersed fine mist and leaves a flexible hold. I diffuse my hair to 70-80%, then apply this hairspray and finish diffusing till about 95%. This hair spray doesn't dry out my hair and leaves a light flexible cast that is easy to scrunch out in the morning (I shower at night). The only I don't like is the smell but it doesn't linger. I highly recommend this product, but also agree with another reviewer that felt this hairspray should be offered in a travel size. The bottle is huge, so a travel option would be great.
We're so glad to hear that Danielle! Thanks so much for taking the time to write and share with us your experience!
04/18/2021
Shaymaa S.

United States
Love it !
It's terrific , no sticky residue. Definitely recommend it .
We're so glad to hear that Shaymaa! Thanks so much for taking the time to write and share with us your experience!
01/23/2020
Jessica K.

United States
Fabulous Product
This hairspray is FANTASTIC. It doesn't leave your hair crunchy or tangled, but holds well and lasts through the whole day. I can be too picky about these kind of things, but I also love that it sprays in an even mist instead of spewing product. Great product for wearing hair up or just holding style. Will be ordering again!